A day in the life of…a Thyson Electrician
December 4, 2014

Name:

Michael Nevitt

Role:

Electrician

Division:

Workshop

How long have you worked at Thyson Technology?

1 ½ years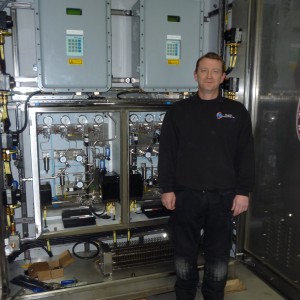 Give us an idea of what a typical day for you would be like?
A typical day for me is spent in the Thyson workshop. I can be testing the different equipment or installing the various electrical elements required in sampling systems and analyser houses.
What's the most challenging project you're worked on and why?
I wouldn't say there's a particularly challenging project, each project comes with a strict specification that we must adhere to. You need to have your wits about you and make sure you have an eye for detail on all projects, which can be challenging given the intensity of some of the projects we work on.
What's your proudest moment working for Thyson?
I feel proud every time I help to dispatch a product to our customers because I know the hard work that goes into making sure every last detail is correct.
What's your advice to somebody looking at embarking on a career in engineering?
Try to find a company with a variety of products or services as this will allow you to gain more experience across different fields and disciplines.
What do you enjoy the most about your job?
The variety – no two days are the same.
Have you done much travelling in your career? Tell us where you've been.
All over the UK – too many places to mention!
How do you relax in your spare time?
I enjoy looking after my family and like to go for days out with them.
What's your favourite TV programme?
I'm a big sports fan, so that takes up a lot of TV time in our house!
Describe yourself in three words
Hardworking, reliable, trustworthy