Earn while you learn: One Thyson apprentice's message for engineering enthusiasts
November 14, 2014
For National Oil and Gas Skills Week, one of our resident apprentices, Ian Edwards, gives a glimpse of what it's like to work with team Thyson.
Name
Ian Edwards
Role
Apprentice instrument pipe fitter
What apprenticeship are you completing?
BTEC Level 3 Mechanical Engineering with the TTE Technical Training Group College
How long is the scheme?
Two years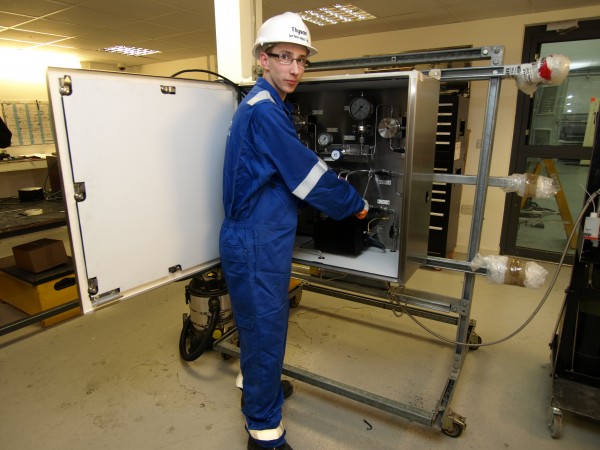 Can you describe what your typical week looks like?
As a rule, I usually spend one day a week in college working on the theory side of the course and the rest of the time is spent in the Thyson workshop. It's a pretty hands-on programme, which I enjoy, as you get to put what you learn at college into practice at Thyson almost straight away.
What are your main tasks in the workshop?
I help the rest of the team to build sample systems and analyser houses for a range of settings and applications, which are fitted into hazardous environments. I'm also responsible for ensuring the rest of the team is working in a clean, safe environment.
What's the best part of your job?
I love learning and using new skills. It's amazing how quickly you can see yourself improve and it's really satisfying when you can use what you've learned in the workshop.
What's the most interesting thing you've learned so far?
It's definitely learning about how all the different equipment works and how accurate every engineering calculation needs to be to make sure it works correctly. I've recently been finding out about how gas pressures must be kept at optimum levels to make sure the relief valves don't blow, which can cause an entire system to fail.
How did you hear about the apprenticeship scheme?
My school had an open evening for pupils considering their options after leaving. The TTE college was there talking about the apprenticeships they had to offer and this one really stood out.
What made you want to join the Thyson team?
I was interested in the type of work that Thyson does for clients across different industries, particularly oil and gas and water, and I wanted the opportunity to get hands-on experience with a great team.
What's your advice for anyone considering an apprenticeship?
I'd advise anyone to consider apprenticeships they're a great way to earn as you learn and gain experience before you qualify.
What are your career plans after you complete your apprenticeship?
I'd like to work for a company like Thyson and develop my skills – perhaps even do an HNC. My ambition is to work abroad on oil and gas projects as the guys have told me all about their great overseas adventures!