Meet the team | Jack & Eleanor
May 23, 2023
Meet the team | Jack & Eleanor
At nZero Group, we've got fantastic people at Orbital and Thyson and we'd love you to meet them. This time it's our Thyson graduate process engineers, Eleanor and Jack.
Come and meet them!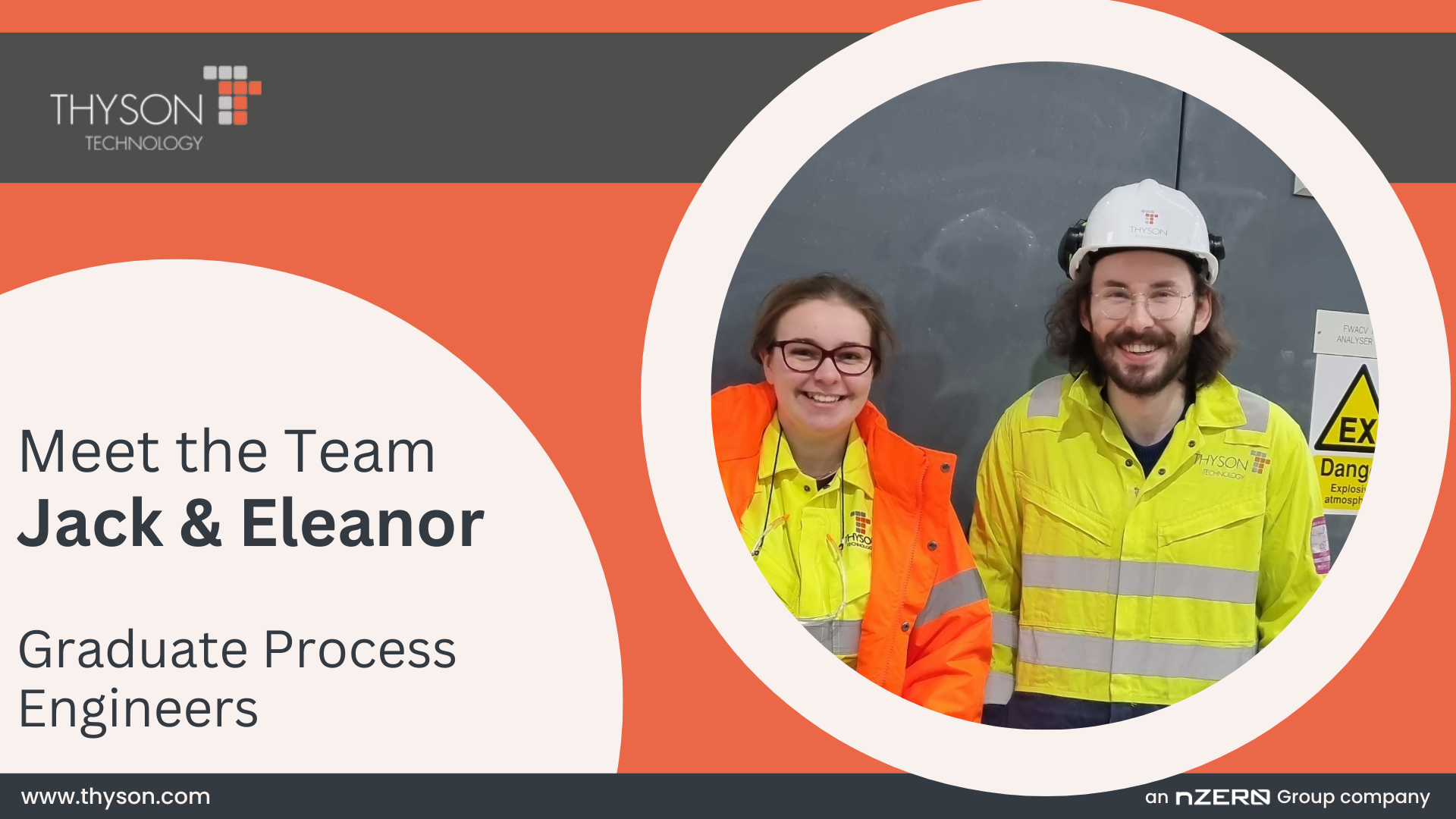 [Eleanor, left, and Jack, right – Graduate Process Engineers at Thyson]
1. Who are you?
Jack
I'm from the Northeast but I studied Chemical Engineering at Leeds University, where I met Eleanor. In my free time, I take care of my houseplants and enjoy cooking. I also have a pet lizard and have a passion for history. I'm definitely not into sport so when football is discussed (a passion here) I glaze over a little bit!
Eleanor
I'm from Liverpool originally but studied in Leeds doing Chemical and Material Engineering. I did a 5-year course (bachelor's, master's, and year in industry) but ended up moving back near home for my first job. I live with my partner and my bearded dragon, CJ, and in my spare time, I enjoy playing games, going to my fitness classes, and catching up with friends and family.
2. Why did you decide to come to Thyson as a graduate?
Jack
During my final year, I sought a job that offered a balance between hands-on experience and using the knowledge I had gained through university, which is why I applied to Thyson on Eleanor's recommendation.
Eleanor
Before my final year at university, I spent the summer interning at Thyson and was impressed by the level of involvement I had in various projects. When it came time to apply for my first graduate job, I knew I wanted to return to this company. Unlike larger, more corporate environments, I knew I would be able to gain a comprehensive understanding of projects by seeing them through from start to finish. The guys in the Tech Centre are really knowledgeable about anything practical, so you learn so much, working with people with such a broad range of experience. The atmosphere here is welcoming, relaxed and fosters a good culture. If you make a mistake, you can own it and people help you rectify and understand it rather than laying blame, which helps you develop and learn. The company encourages employees to seek help and develop their skills and understanding, without expecting immediate mastery of a subject, which is reassuring and encouraging.
3. What do you do at Thyson?
Both
We are graduate process engineers. We design stuff!
Jack
It's like being an advanced heating engineer, we work on pipes but on a bigger scale. We're essentially professional problem-solvers.
Eleanor
We work on anything involved with temperature, pressure, or flow rates really: if you're going to put something down a pipe, you need to know it's got enough pressure to get it down there but not blow the end off when it's there. You need to understand the safety in the design, and the problem solving involved is great.
4. What do you enjoy about the job? (At this point, both Eleanor and Jack talked together, discussing this question so this answer is a combination of that conversation).
Engineering is a very varied discipline, what we do is pretty much different, day to day. One day we're filling in forms and doing calculations, the next day we're in the Tech Centre coming up with problem solving ideas for things we've built and looking at the problems you didn't anticipate in the initial design. Then you have to see that design/build through to make it work. Sometimes it can be how something works, making something fit, or mounting it in a different way or position.
It sounds cliché saying every single day is different but genuinely, there is something different to do each day. The whole team is constantly innovating or problem-solving – or both. Someone will have a fresh idea to bring a new approach to customer challenge or someone will have spotted something not right, so we all get involved to work it through and improve on what we did yesterday.
We also do interact with clients, it's all part of the job to be able to answer the questions they're asking. In my first few weeks, a client was concerned about overheating problems, and I did a detailed explanation and calculation to explain why it wasn't actually a problem. We often deal with non-engineers, like project managers checking things are on track and we help them understand where things are. We often have to meet with client's teams to explain why a particular thing they want isn't actually what they need, because that thing (whatever it is) isn't an effective solution for this specific project and what they actually require is something different this time. You also learn how to convince the other side that you are correct, and it's about building a relationship and earning trust. We're learning how to communicate more effectively too, to be persuasive and clear in our emails – that's really important and not something you really learn at university.
5. You recently attended a graduate recruitment fair at Leeds – what was that all about?
That's our old university so it was good to go back and show that it's possible to get a good job, start your career in a business students will probably know nothing about. The main thing is to get the nZero Group name out there. People apply to what they know, it's why endorsement works, so if a celebrity endorses a brand you don't know, you think there's a reason they must be doing that. So, it was about telling people more about nZero Group, the work we do, about the company to see if it was something that interested and was right for them.
We hope to repeat it again in March, following up with those we met in the autumn and looking out for third and fourth-year students looking for their first job.
6. Why do you think process engineering is so important?
Jack
I feel like within the company, everyone gets to ask questions and gets to answer them too. It's usually the process engineers that get asked the most questions. With specific projects, there's one now we've been working full time on the last three years, and we have to think about every single aspect of it to make sure everything has been considered. That's the essence of process engineering – that there's good reason why something (whatever it is) is there – or not.
Eleanor
It's like you're sitting with a five-year-old kid who's asking "why" at every single moment: why that material, why that size pipe, why that flowrate, why that high a pressure, why do we need that regulator. That's why engineering is so important, because it's about thinking literally every detail through from every angle possible, because otherwise the function may fail, or someone could get hurt. The reasons behind things often come down to safety issue, or compliance to technical standards – which is just safety again but in more words.
When you realise the job, you have to do, you realise you have to be consistent, accurate, and focused so that we can catch all the little problems there may be, to show our customers the level of time and care we put in to everything we do.
This sounds quite intimidating, but everyone understands that we all make mistakes, which is why everything is separately checked and approved, and you can always ask for help.
7. Why are Thyson's values important to you?
Jack
Safety and compliance are paramount. At uni, you're taught safety comes first in everything you do, cost, decisions, everything. This makes things expensive but it's vital and it's not a choice: you have to, for the safety of the people you might put in danger and for everyone's reputation and public confidence ultimately.
Eleanor
There's a good standard from the top down. If you walk into the Tech Centre without steel toe-capped boots on, well, you just don't. You have to walk on the correct walkways, you have to park the right way in the car park. There's good humour about it if people get it wrong, everyone's keen to make sure it's safe here. It's about caring too, there's a genuine sense that no one wants anyone to get hurt. There's a good ethos here for caring for everyone anyway, even before compliance.
8. What would you like to see happen in the future for you?
Jack
I will be working towards Chartered Engineer status. I would like to stay as hands on as I can at work as that's where I feel the most useful.
Eleanor
I want to be Chartered through IGEM and I am getting involved in a lot of the hydrogen stuff as well. I want to keep improving my technical knowledge and working on more and varied projects to maximise my exposure and experience. Maybe another lizard in the future, but I think my partner would rather get a cat…